Henry Clyde "Pea Ridge" Day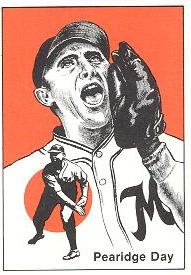 Born August 26, 1899 in Center, Missouri
(1899-1934)
Day, whose attempts to come back from arm surgery were unsuccessful, sadly took his own life in 1934.
Nicknames: Pea Ridge, Hog Calling Pitcher
Teams: St. Louis Cardinals, Cincinnati Reds, Brooklyn Robins (Dodgers), Kansas City Blues
The man we know as
Pea Ridge
was called Clyde from a young age, though his given name was Henry.
Day was decent sized, about 6 feet and 190 pounds, and possessed a strong build chiseled from his days working on the farm. He continually bragged about being the strongest man in professional baseball.
Day made his reputation, though, for his stunts on the field. A newspaper said of him, "Pea Ridge has more color than a funny name. He is a hog caller. He made so much noise yelling, even when he was pitching, that the umpires and players protested." Day would hoot, holler, or break into a prolonged hog call while on the mound after a strikeout or other key play.
Hog-calling pitcher, Pea Ridge Day
For a time in the minors, he also experimented with throwing ambidextrously. Al Lopez, who caught Day on the Brooklyn Dodgers in 1931, said of Day, "He was a character, big barrel-chested guy. Had a helluva screwball, never could pitch, though."
source: Clyde Day Biography | SABR, by Brian McKenna
The Hog-Calling Pitcher faces the Babe
Hall-of-Fame catcher Al Lopez caught for Day in 1931. In an Associated Press interview, Lopez recounted a story about a 1931 exhibition game against the New York Yankees.
"The fans had been reading about him being a champion hog caller, so they all started calling 'Yip, yip yeeee!' He strikes out the first hitter, puts the ball and glove down and lets out this call. He strikes out the next batter and does it again. Babe Ruth was on deck, and he gets a big kick out of it. He's laughing at this guy. Then he has Ruth with two strikes. It gets real quiet. The fans are hoping he'll strike out Ruth so he can yell again. On the third pitch, Ruth hits one a mile over the fence. Pea Ridge never did his hog call again." (source: Wikipedia)
The Screwball, Ambidextrous Pitching and the Strongest Man
"Pea Ridge" Day was just like the only decent pitch he could throw: a screwball. The strawberry farmer from Pea Ridge, Arkansas was fun-loving and played ball with the enthusiasm of a little boy - he just wasn't all that good at it. Pea Ridge was known more for his eccentricities than he was for his pitching.

To make up for his lack of speed, Day began pitching both left and right handed. When the ambidextrous routine failed to improve his record, Day began billing himself as the strongest man in the game. To demonstrate, he would take a teammate's belt, strap it tight around his chest and breath in deep, busting the belt buckle. Tired of buying new belts, one of his teammates replaced a standard belt with a heavy-duty horse harness. Pea Ridge inhaled deeply and promptly broke half his ribs. (source: Gary Joseph Cieradkowski)
Read more
Loss of Arm Behind Day Tragedy
Costly operation had failed to restore Pea Ridge's whip to form.
March 21, 1934
Grief over a pitching arm that lost its thunder caused Clyde Day's suicide at Kansas City last week.
Members of his family hold to that version of Cyde's actions when he slit his throat with a hunting knife, an act which puzzled much of the baseball world which knew him-- for all his eccentricities -- as a care-free, fun-loving figure who gave the game one of its most widely-known characters.
But the powerful right arm of the solidly-built Pea Ridge--a name he carried through ten years of baseball since his professional debut with Joplin in the fall of 1921--was shot, and the hurler, more than anyone else, knew it, and brooded almost continually over the fact.
Pea Ridge saw fame, glory and fortune that he once knew fading away. Last spring he tried to catch on at Little Rock, Ark., and they sent him to Minneapolis. There he was released.
Day did what he thought was the last thing left for him to do. He went to Rochester, Minn., and underwent a delicate and expensive operation on his arm, which he thought would restore to it the old snap and endurance it once knew. Day told members of his family he had spent almost $10,000 on the arm; and when he returned, crest-fallen, to his home, he said the operation did no good. He knew the arm was gone, but he wanted to carry on. (source: Obit by Porter Wittich)
Read more
Pea Ridge Day Baseball Stats by Baseball Almanac
Goold: Meet Pea Ridge Day, the Cardinals' hog-calling pitcher
Clyde "Pea Ridge" Day (1899–1934) - Encyclopedia of Arkansas
Pea Ridge Day: The Hog Calling Pitcher Gets Another Chance
Pea Ridge Day Memorial
Memorial plaque at a park named in his honor in his hometown in the Ozarks.
.
................................
Hog calling, or pig calling is the art of making a call to encourage pigs to approach the callee. The skill is mainly used by pig farmers, and to a lesser extent by hunters. Competitions in hog calling are held.
................................